Home Study and Online CE Credit
The Erickson Foundation offers online CE / homestudy credit for many select recordings from our archives. CE credits cost $10 per credit, in addition to the base cost of the recording. 1 credit is equivalent to 1 hour of content activity. Psychologists, psychotherapists, MFTs, counselors and other mental health professionals with any level of experience will benefit from our videos, lectures, demonstrations and tests.
Accreditation / CE Approval
The Milton H. Erickson Foundation, Inc. is approved by the American Psychological Association (APA) to sponsor online continuing education for psychologists.
Purchasing CE Credits
When you select a video that has CE credits offered, a pop-up window will prompt you purchase the CE credit option. You can add that to your order at that time by confirming the Add to Cart option.
You may also purchase the video as a stand-alone product, and then opt into purchasing the CE credit at a later time. Simply find to the session in your purchase history. From there, just select the "Purchase Credit" option.
Complete the Tests
Each of our videos have progress tracking available. Once you have completed at least 90% of the sesison, you will be able to take the online quiz. The quiz will have a variety of questions related to the session content. You must complete these tests with a score of 90% or higher. You may retake the tests a limited number of times for no extra charge.
Once the session has been viewed, and the quiz has been successfully completed, you will fill out an evaluation on your experience, and then be given the option to download, print, or email your certificate of completion.
Availability
Select workshops, keynotes, clinical demontrations and topical panels from the Evolution of Psychotherapy, the Couples Conference, and the Brief Therapy Conference in a variety of subjects and disciplines are available. We also have some classic videos with CE options available. Not every session is available for CE credit. Credit availability will be conspicuously displayed with the product.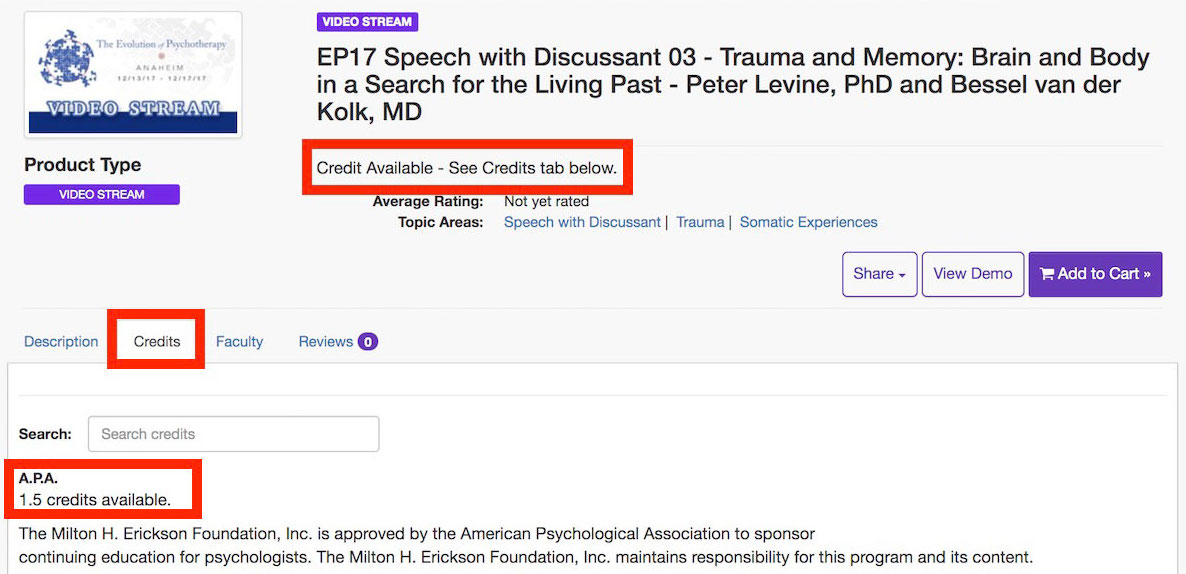 CE credit is only available for streaming products - CE credit is not available for downloadable products.
All of our Online CE content can only be accessed through the Erickson Foundation store portal. You must be logged in to view this content and complete the CE requirements. You can log in to your account by clicking here.
Refunds
The Erickson Foundation will provide a 100% refund if you are dissatisfied with any of our CE products. A request for refund must be made:
1. within 30 days of the purchase of the CE credit, and
2. prior to completing the CE quiz.
Refunds are not available once you have completed a CE quiz, whether or not you passed.
I Forgot My Password
If you have lost your account password, navigate to the log-in page. You will be able to enter your email address and click the "Forgot your password?" link. Your password will be emailed to you within minutes. In the event you don't see the email, please make sure to check your spam filter.
Support
If you need help at any point, just email us at our support email.